Years ago, when I first heard of "boho chic", I didn't really know what it meant. But after seeing the word used a few times, I got the idea. At some point I went and looked it up to see if it actually meant what I thought it did. According to Wikipedia, boho chic is a style that draws on "various Bohemian and Hippie influences." It defines Bohemianism as "the practice of an unconventional lifestyle."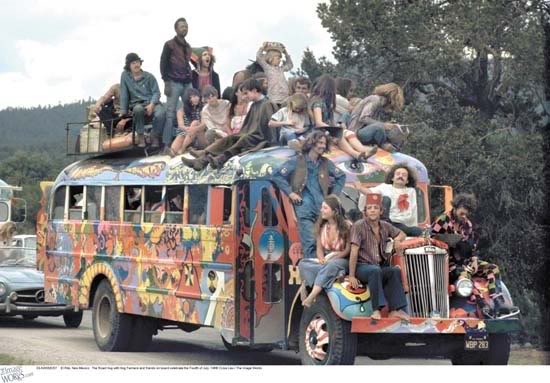 Get a haircut you damn, dirty, hippie!
Now, no one needs to define the word hippie for me. I was a child during the 60's, and I know (and love) the hippy look. But for those of you who don't know, it was a lifestyle back in the 60's. To say it was a subculture may be an understatement. I think it was an entire generation. Think pot, LSD, psychedelic music, psychedelic clothes, flower power, love beads, peace signs and fringe. I think probably what started it was the reaction of young adults to the Vietnam War, but it spread to other countries as well. It reached it's peak in the Haight-Ashbury district of San Francisco in the late sixties.
Janis Joplin
Of course, rebelling against the war doesn't entirely explain the fashion style. Part of the fashion was definitely rebellion. Men grew their hair long and didn't shave.
The natural look was certainly in, which was pretty much the total opposite of the early 60s.
Another influence was when the Beatles went to India to visit the Maharishi. Add psychedelic drugs to the mix and stir it all together and you have hippie fashion. Now, I'm just speculating at all of this, so if anyone wants to correct me, feel free. (I'm too lazy to do the research! Oh, did I say lazy? I mean busy!)
The Beatles and the Maharishi - notice the beads!
The hippie jewelry was not expensive. I'm sure quite a bit of it was homemade. Macrame was in for plant holders and jewelry too.
This macrame bracelet looks very much like something a hippie might have. Although the large rhinestone might be a little on the fancy side. A hippie might be more likely to have one or more
cheap
colorful beads.
I still remember the necklace I used to wear all the time. I had a yellow shirt and the pendant was orange. It was round. It may very likely have been a peace sign. I'm sure I still have it packed away in a box somewhere. Even though this one isn't a peace sign, the om would fit right in too (reminiscent of the maharishi!)
We've all heard how hippies didn't like to bathe. Actually I'm pretty sure that, even though they may not have had a bathtub, they did like to go skinny dipping! They didn't necessarily like to wear shoes, or even any clothes at all. That's why I couldn't resist including this bare foot with the ankle bracelet here.
This bracelet looked hippie to me because of all the different beads that have been incorporated with one focal piece. Like, yeah, I've got a bunch of beads, so let's throw them all together! (No offense, it looks great!) Although a true hippie would have a peace sign for the focal piece.
Long and flowing is definitely a hippie mantra, especially when it came to hair. "Let it all hang out!" Dangling and eclectic, these earrings would fit in at the commune. Even though these pearls are very organic looking rather than expensive, a real hippie probably would have some kind of bead other than a pearl. These have a bit of a gypsy vibe, which was definitely "in".
Ok, now for the
pièce
de
résistance, in my opinion:
FRINGE!
As I was looking through fringed, seed beed earrings for a pair to include it was almost like I went back in time for a second. I remember the pair I had. They were kind of grey, and I think all one color. This pair looks a little nicer than mine. Mine were really cheap, and I'm sure they were made in Japan.
What happened to the hippies? The war ended and I guess they all grew up. I like to think there's a little hippie still left inside all of us.
I don't know about you, but this has certainly inspired me to go dig out some hippie clothes and see if I can find my old jewelry!